Modern dental x-ray machines can take an x-ray picture of all of your teeth in just one picture. While we still need to occasionally get close ups of a tooth root or look very closely between teeth, the "panoramic" x-ray has greatly reduced the need for dozens of "intra-oral" close-ups (periapicals or bitewings). And no thorough dental exam is complete without this x-ray information. Again, we are not just looking for cavities but also tumors, infections, fractures, and systemic diseases signs too. Modern digital dental x-rays use a tiny fraction of radiation compared to hospital x-rays or Cat-scans. Dental x-rays are barely more than what is known as "background radiation" that we normally get from the sun outdoors!
Related X-ray Articles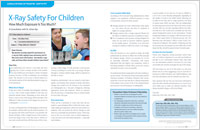 X-Ray Safety For Children
Nearly every diagnostic testing procedure carries some risk, so it's always important for you and your healthcare provider to weigh the benefits against the risks. This is particularly true when it comes to children, who are more sensitive to x-rays than adults… Read Article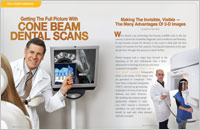 Getting The Full Picture With Cone Beam Dental Scans
Dental imaging took a major leap forward at the beginning of the new millennium with a three-dimensional technology known as cone beam computed tomography (CBCT). The name comes from the cone-shaped beam of x-rays the CBCT machine projects as it rotates around a person's head, taking multiple images that are compiled into a 3-D picture by a computer. Find out what CBCT can reveal and how it helps a doctor to make a highly informed diagnosis and choice of treatment… Read Article
WNC Dental, Asheville and Hendersonville's premier Dental Practice is proud to offer the following additional services to you.