Full dentures replace all of the upper and/or lower teeth. While nothing is as good as sound and healthy natural teeth, dentures have enabled millions of people to chew and smile years after their natural teeth have been lost due to disease or accident.
There are several steps involved in the fabrication of a denture and one must learn to chew and smile with new dentures, much like learning to ride a bike. And once a patient learns to wear proper fitting dentures, they quickly become a more normal part of the patient, much like wearing shoes.
Steps in Making A Denture
There are many many steps in the proper fabrication of a denture that involve the dentist, patient, and dental laboratory technicians. The steps below will give you some idea of what is involved:
The finished denture is delivered to the patient to smile again.

Another Happy Patient
---
A new and exciting area of modern dentistry are the use of implants to help hold in a denture. An upper denture is usually more stable in the mouth because of suction with the roof of the mouth. A lower denture however is much more difficult to keep in place because of the tongue. Now, very small implants can be placed in the lower ridge and ball-and-socket attachements can fasten the lower denture to the ridge for much better stability.
---
---
Related Denture Articles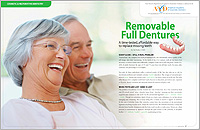 Removable Full Dentures
Complete tooth loss can cause a host of health problems, including malnutrition and bone loss. Though fixed bridgework may hold a higher place of reverence when it comes to replacing an entire set of teeth, removable full dentures can provide an elegant solution that is significantly more affordable… Read Article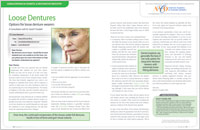 Loose Dentures
Loose dentures are a common problem for people who are full or complete denture wearers, especially if you have worn them for a long time. Whether or not new dentures are needed depends not only upon the condition of your existing dentures, but also how much the supporting tissues have changed… Read Article
WNC Dental, Asheville and Hendersonville's premier Dental Practice is proud to offer the following additional services to you.